In my 35 years on this planet, I have seen a lot of life. I am ten years sober. I am a widow and I have had seriously debilitating physical challenges.
I was an athlete growing up, so exercise was always a big part of my life. However, in 2016 I had three surgeries in one year, including a serious one on my back, and I was side-lined for a long time. I had been doing yoga and hot Pilates in the months leading up to getting back into spinning, but it just wasn't giving me the results I wanted. I have always loved to exercise but have had trouble staying consistent as an adult with the demands of grown-up life.
Many eons ago I used to teach spinning when I lived in Italy, and I loved it. Life got busy – I went to law school, started my career, moved several times – and spinning just fell by the wayside, along with a lot of my self-care. In 2015 I lost my husband to Grade IV brain cancer (glioblastoma) and in the trauma of caring for him and living with the grief when he was gone, I also lost myself. I became a shell of the woman I once was. I abused my body with constant yo-yo'ing between restrictive eating and feeding myself what I can only call poison, considering all the chemicals in it. I was diagnosed with rheumatoid arthritis and was in more physical and emotional pain than I can even explain.
In November 2017, I quit my high stress job at a firm in the Bay Area and moved back to the Central Coast to stay with my family and give myself time to heal. I started coming to cycletribe only a few weeks after moving here, almost exactly year ago! I started coming the week after Thanksgiving in 2017.
Immediately, I was greeted with a warmth, kindness, and support that I had never experienced at any gym or fitness center I had ever been to. I started coming to classes regularly and fell in serious love with the people and the vibe. I finally was able to commit to a completely healthy lifestyle and have added a ton more types of exercise and spiritual fitness into my life. I started a blog called "Surrender to Live: A Widow's Journey From Pain to Purpose" that has been incredibly cathartic and has helped me move through the pain of my experience. I'm back to teaching spin a few times a week, at cycletribe, which is a great balance for my "serious lawyer" job!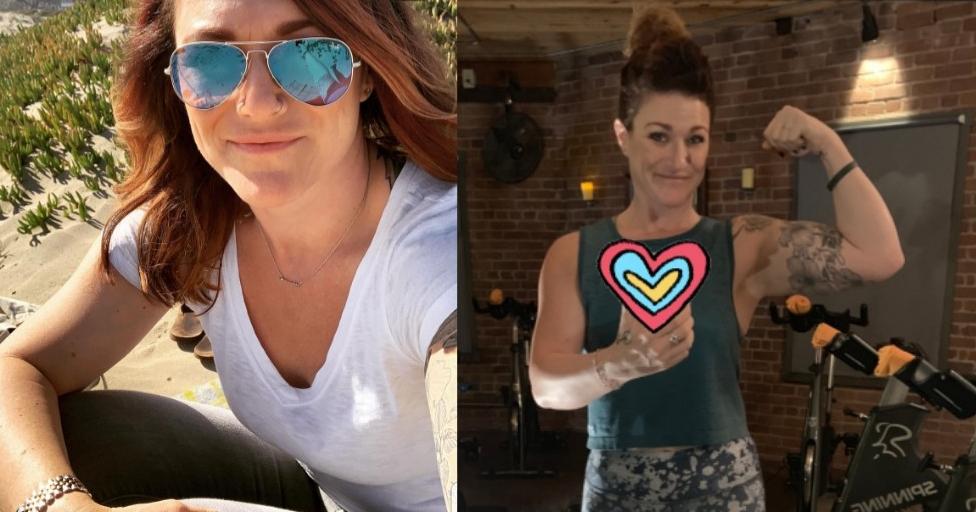 There are a lot of places where you can take spin classes around here, but there is nothing like the vibe at cycletribe. I love the community!! I love the commitment to whole-person wellness instead of focusing on losing weight. That is an awesome biproduct of the work, but it is NOT the focus. Everything is about being positive and full of self-love, which is what I need. I don't need to be yelled at for not trying hard enough by an instructor. I criticize myself enough all on my own, thank you very much!
Physically, after a ride, I am always exhausted but energized. Mentally, I feel stronger for having put in the time to take care of myself, and grateful to have the ability to do so. I feel like I'm getting a second chance at life. Cycletribe truly began my journey back to health, and consequently, back to myself. I have learned through the support of my tribe that I am so much more than the sum of my experiences, though I am grateful how they have shaped and molded me into who I am today.